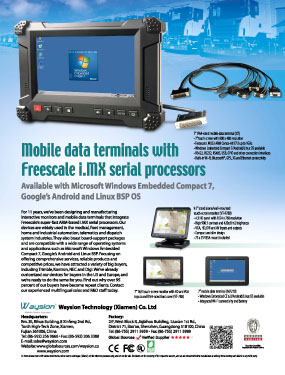 Share:




E-mail

Print

Bookmark
Waysion Technology (Xiamen) Co. Ltd

Follow me

Customizable devices for home, in-vehicle and industrial use since 1999

5 Star China (mainland)
Company Profile

Business Type

Major Customers

Daewoo International
Karcher Industrial

Certifications

Export Percentage

Capital

US$1,000,000 to 1,999,999

Primary Competitive Advantages

Experienced R&D Department
OEM Capability
Production Capacity
Large Product Line
Reliability
Reputation
Buyer's Specifications Accepted
12-month Warranty

QC Responsibility

Total Annual Sales

US$10,000,000 to 14,999,999

Export Markets/Countries

North America

Mid East/Africa

Egypt
Iran
Iraq
Israel
Jordan
Mauritius
Saudi Arabia
South Africa
Turkey
United Arab Emirates

Central/South America

Argentina
Brazil
Chile
Colombia
Dominica
Ecuador
Mexico
Peru
Trinidad & Tobago
Venezuela

Asia

Bangladesh
Bhutan
Brunei Darussalam
Cambodia
China (mainland)
Hong Kong SAR
India
Indonesia
Japan
Laos

more >>

Western Europe

Austria
Belgium
Denmark
Finland
France
Germany
Greece
Ireland
Italy
Monaco

more >>

Australasia

Australia
Fiji
New Zealand

No. of Total Staff

Year Established

Brand Names

OEM Services Provided

No. of R&D Staff

No. of Engineers

Factory Size in Square Meters
More Information

Supplier Profile
Download a more comprehensive profile of this supplier, complete with details such as production capabilities, export capacities, and product development plans.
(PDF file: approx. 120KB)
Contact Details




Waysion Technology (Xiamen) Co. Ltd
3E, Rihua Building, No. 8
Xinfeng 2nd Road
Torch High-tech Zone
Xiamen
Fujian
China 361006
Tel: (86 592) 256 9666
Fax: (86 592) 206 3388


Homepage Address
http://www.globalsources.com/waysion.co
Other Homepage Address
www.waysion.com


Chat with supplier using:

Key Contact:
Mr Ou, Jordan
Business Development Director


Supplier and product information updated April 23, 2013.
Verified Business Registration Details
Registered Company: 维迅科技(厦门)有限公司
Business Registration Number: 350298400001721
Company Registration Address: 厦门火炬高新区软件园创新大厦B区#301


* In some jurisdictions, company names and addresses are registered in Chinese only.